First Ever Author Interview Featuring Shelley Sly
I would like to introduce my author, friend, critique partner, interviewee—
Shelley Sly.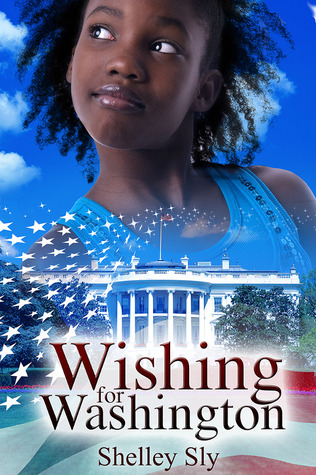 So, Shelley, thanks for taking the time to answer a few questions. I've tried to keep it to ten questions (I did cheat a little and a couple questions may have two or three squeezed in there
J
).
Hi Kristi! Thanks for having me here. I'm so excited to answer your questions! (Even if you did cheat.

J

)
Question 1: I don't want to give away anything about WFW in case those reading this interview are like me and prefer to jump blindly into a book, but I do want to give you a bit of a test—can you sum up WFW in just one sentence? (The ultimate test for any writer/author! And you thought this was just going to be a simple interview!)
Ha, yeah, that is a challenging test. Well, I already have a quick verbal summary that I give if someone asks me in person, "What's your book about?" So I'll use that: "It's about a sister and brother who sneak off to Washington, D.C. to try to meet the president." There's more to it than that, but I don't know how much more I can cram into one sentence!
Question 2: From your bio, we know you're from the D.C. area, but what was your inspiration for WFW and the amazing characters?
Aww, well first off, thank you for calling my characters amazing. I kinda like them myself. I've been asked this question by quite a few young readers, actually.
WFW started out as a vague story about a sister and brother. I knew I wanted to write about siblings who were close and got into trouble together, but I didn't know anything else about it at first. I wanted them to run away somewhere. Why not Washington, D.C.? The city is right in my backyard, and yet I hadn't written any stories that took place there. Everything else fell into place: Tallia and Isaiah wanting to meet the president (and their particular reason for wanting this), the family dynamic, the friends they make. It came together pretty organically. As for the characters, Tallia and Isaiah's personalities are inspired by kids I've worked with, and I admit, Tallia is also a bit like me.
Question 3: As you wrote and edited WFW, how many Critique Partners did you have? And did you make any significant plot changes due to any comments from your Critique Partners?
Let's see… I think I officially had five critique partners, (though one of them read through the MS twice, at two different stages), but I also had a few beta readers who just read through and made sure there were no typos or obvious errors, and on top of that, I also hired an editor. I wanted to make sure I was putting my best work out into the world.
I did make significant plot changes. My critique partners gave me such valuable insight on things that I wouldn't have ever picked up myself. I rearranged parts of the story so that certain events happened sooner, I deleted entire scenes in the "D.C." part of the story and added in new ones, I strengthened a subplot, and more, all because of the feedback I got.
Question 4: How important were your Critique Partners to WFW? And where did you find all your Critique Partners?
Oh, they were SO important! Each and every one of them made my story better. This one named Kristi always gives me fantastic critique notes when we exchange. ;) I found some of my CPs on Mary Kole's Kidlit.com blog, when she's hosted a "Critique Connection." I also met a few on Twitter and through blog comments.
Question 5: Why did you choose self-publishing over traditional?
When I was making a decision on which path to take, I had to consider what would be best for my lifestyle. I'm chronically ill (frequent migraines and fibromyalgia), and I go through unpredictable waves of illness that can last as long as 2-3 weeks. During those times, I can't get a single thing done. While I know it would have been possible to find an agent and editor who would have worked around my limitations, I felt more comfortable running the show myself.
I love being my own boss. I consider self-publishing a business. I have a business name, Frolloway Press, and I manage all the financial stuff myself. And having the ability to control everything – when my books release and what my covers look like, for instance – is truly thrilling.
Question 6: Having successfully self-published, do you have any regrets or things you would do differently the next time around?
Sure, yup. It's a learning process. I'll eventually blog about my entire experience so that others can learn from it, too. So I'll be honest about it.
I love self-publishing so far and don't regret the path I took. However, I do regret some of the ways that I went about it. I made a business plan, which includes a marketing plan, BUT I didn't stick to it! What a dummy, right? I was originally going to start advertising my book months in advance, ask people to blog about it, do a major cover reveal… and I just didn't do it. Instead, I released the book somewhat quietly. Next time, I'm going to market more before the release.
Question 7: How much of a financial investment was this endeavor?
You know, not as much as I thought it would be. If you Google, "How much does it cost to self-publish?" my numbers were much lower than the answers you'll find. This is something I actually did right in the publishing process. I researched! Months before I even dipped my toes into the self-publishing pool, I made a list of editors and cover artists that I'd potentially want to work with. I compared prices and contacted the ones who had both the best quality AND best price. I saved money by formatting the book myself (which took about a month to do), and didn't over-spend on marketing supplies. Overall, I'm pretty pleased with how much I saved.
Question 8:
How are you promoting your book? Anything super creative and fun? Is it true that they send you boxes and boxes of the book and you have to store them under your bed or in the linen cupboard and take them out and sell them yourself? This also makes me wonder about Amazon—are you the seller on Amazon?
Haha, okay, I'm gonna tackle one question at a time.

J

As I mentioned before, I was pretty much a marketing failure before the book released. Now that it's out, I'm still a little shy when it comes to advertising online, but I've actually made a bunch of sales just by having a consistent web presence. Twitter, Facebook, Blogger, Goodreads… all of that helps. As for creative and fun, I ordered bookmarks with WFW's cover on it, as well as a QR code that you can scan and it takes you directly to my website. I've handed out about 100 of them so far, and what do you know, my website views have since gone way up. It works!
Amazon has been a pleasure to publish with so far. Their publishing process is somewhat easy and intuitive. They are the seller, technically. When you order a print copy of WFW, they print it on demand and ship it. They don't give me any books, besides a proof copy. I think some traditional publishers might give you those boxes and boxes, but if I want any books, I have to buy them (but at a very discounted price). Yup, that's a downside to self-publishing right there.
Question 9: Because I really loved this question you posted on Facebook after a school visit—why do you write under a pseudonym?
Well, I wanted something 1) short – so that my website address is short, 2) easy to remember, and 3) alliterative or otherwise neat sounding. I came up with Shelley Sly almost five years ago, and you know what? It's pretty much my real name now. Your name is whatever you identify with, and mine is definitely Shelley Sly.
J
Question 10: What's next?
I'm working on a lot of projects simultaneously right now (don't try that at home, kids – it's stressful), but I'm mainly working on editing my next book. It's not a sequel to WFW, but another contemporary middle grade book about family relationships. I'm aiming to release it in January or February of 2015, but that could change, for sure.
This has been fun! Thank you for having me, Kristi! You're fabulous!
Thank you, Shelley!
Ha ha! Just when you thought this was over—I've thought of another question. I mean, come on, we already established that I'm a cheat so one more won't hurt, right?!
Hmm... not a very conscious decision, no. That's not to minimize the factor of race, because that's an important part of a person's identity, even a fictional character's. But Tallia and Isaiah's characters just kind of... happened. The fact that they're a year apart in age. The fact that they're both tall and skinny. And, yes, the fact that they're African American. I wish I could say that I sit down and deliberately plan every feature of my characters, but the truth is that they sort of float into my mind however they're meant to be. I will say, though, that I'm a huge fan of #WeNeedDiverseBooks and always thrilled to see more diverse characters in MG books.
Thanks again to the amazing Shelley Sly for this great interview. Please visit her at shelleysly.com